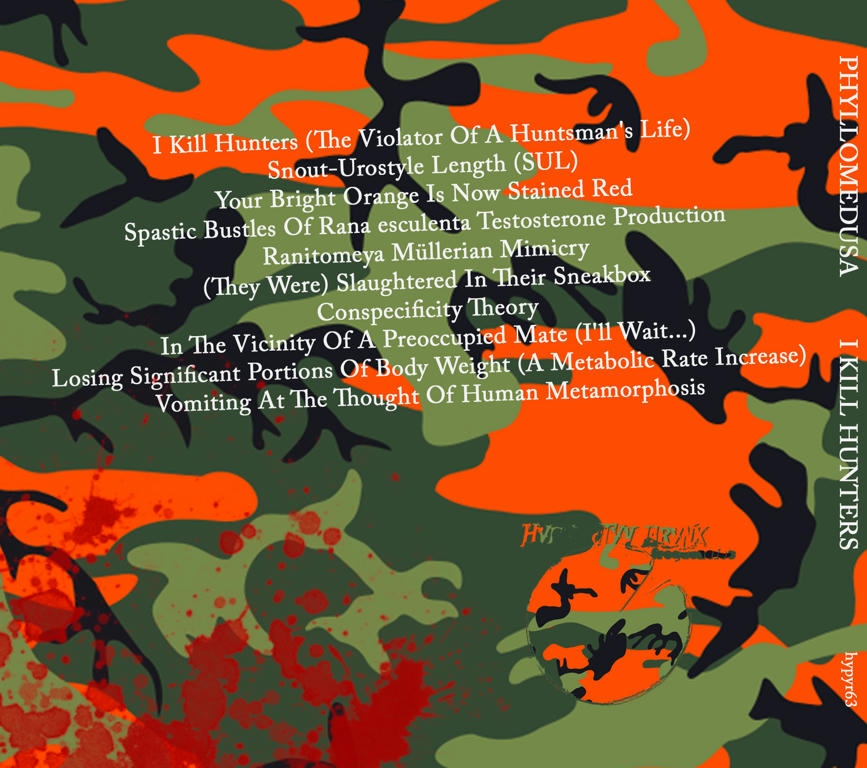 This is the digipak version of "I Kill Hunters" hatched in 2014. The original plopped out in 2013 as a digital release.
The digipak was limited to 100 copies, specially wrapped, mailed to random pudknockers, and came with a bumper sticker.
The clump features a plumper sound throughout, an extra bass track, as well as bonus tracks from 2007-2014. Including a track from "Lack Of Ribs", a pre-Phyllomedusa project.
I Kill Hunters (both versions) features bass only.
Original version can be found here:
http://www.amphibianworship.com/2013/12/phyllomedusa-i-kill-hunters.html
I Kill Hunters (The Violator Of A Huntsman's Life)
Snout-Urostyle Length (SUL)
Your Bright Orange Is Now Stained Red
Spastic Bustles Of Rana esculenta Testosterone Production
Ranitomeya Müllerian Mimicry
(They Were) Slaughtered In Their Sneakbox
Conspecificity Theory
In The Vicinity Of A Preoccupied Mate (I'll Wait...)
Losing Significant Portions Of Body Weight (A Metabolic Rate Increase)
Vomiting At The Thought Of Human Metamorphosis
(

Digipak

Bonus)
Lack Of Ribs (Recroaked)
6 Untitled Tracks (Recorded from 2007-2014)
GORGE